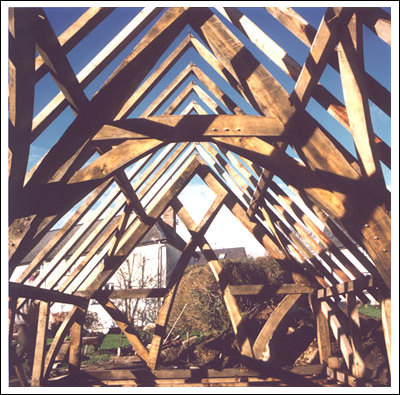 Crucks are pairs of curved timbers and generally consist of 
 two halves of a tree trunk. They are regarded as one of the earliest 
 type of timber frame. This subject has been the cause of much debate 
 amongst building historians. F.W.B.Charles, in his book "Conservation 
 of Timber Buildings", puts foward a very interesting argument for their 
 long antiquity - an opinion that I also share. 
        The massive Tithe barn at Leigh Court in Herefordshire was one
 of my favourite inspirations. The cruck frames here are the largest
 known and it is unusual that each giant curving timber is a whole tree.
 One can only look with amazement at the superb carpentry and wonder 
 at the lifting capabilities of the 14th century craftspeople.
        In the building you see to the left the central cruck is based on the
 afore mentioned. For the entrance frame I chose to break with tradition
 by crossing the cruck timbers. This not only produced the arched shape
 door frame but also helps to transmit roof loadings directly to the ground
 like a traditional cruck. 
        The finnished design for me echoes a Scandiavian / Viking style
 whose art in building and wood carving I constantly marvel at.
        The aesthetic qualities of the simple cruck frame;especially the arches 
 formed by the braces that sweep up to the collar beams make it a 
 favourite  element in many of my building designs.